Outdoor Style
Aesthetics + Performance = Perfection
Designed with stylish intent. Outdoor apparel and footwear on the cutting edge.
Running shoes have been accepted as casual footwear since the 1972 Nike Cortez broke out of the track team's gym bag and appeared on feet in all sorts of settings. Today, the Cortez and similar retro models are the height of sneaker fashion.
Wearing today's performance running shoes in a casual context, however, makes you look like you forgot to change out of your uniform. With their flashy colors, performance-first fabrics and highlighted technological features, running shoes feel more like sporting equipment than apparel. Keeping them on after a run is rather like wearing padded cycling shorts to the coffee shop or knicker-length baseball pants to a post-game lunch.
Activity Agnostic
The problem with these shoes is that they scream, "I'm a runner." The new generation of athletes—Millennials and Gen Zs—eschew such labels. "We're finding that they don't want to be defined as one specific thing," says Brice Newton, Senior Manager of Global Footwear at Brooks. "They want to be defined as 'I'm really fit.'" Brooks' new Revel is designed for these consumers, who tend to run a few times a week, but also go to the gym, take classes or join fitness training groups, maybe cycle or play pick-up team sports.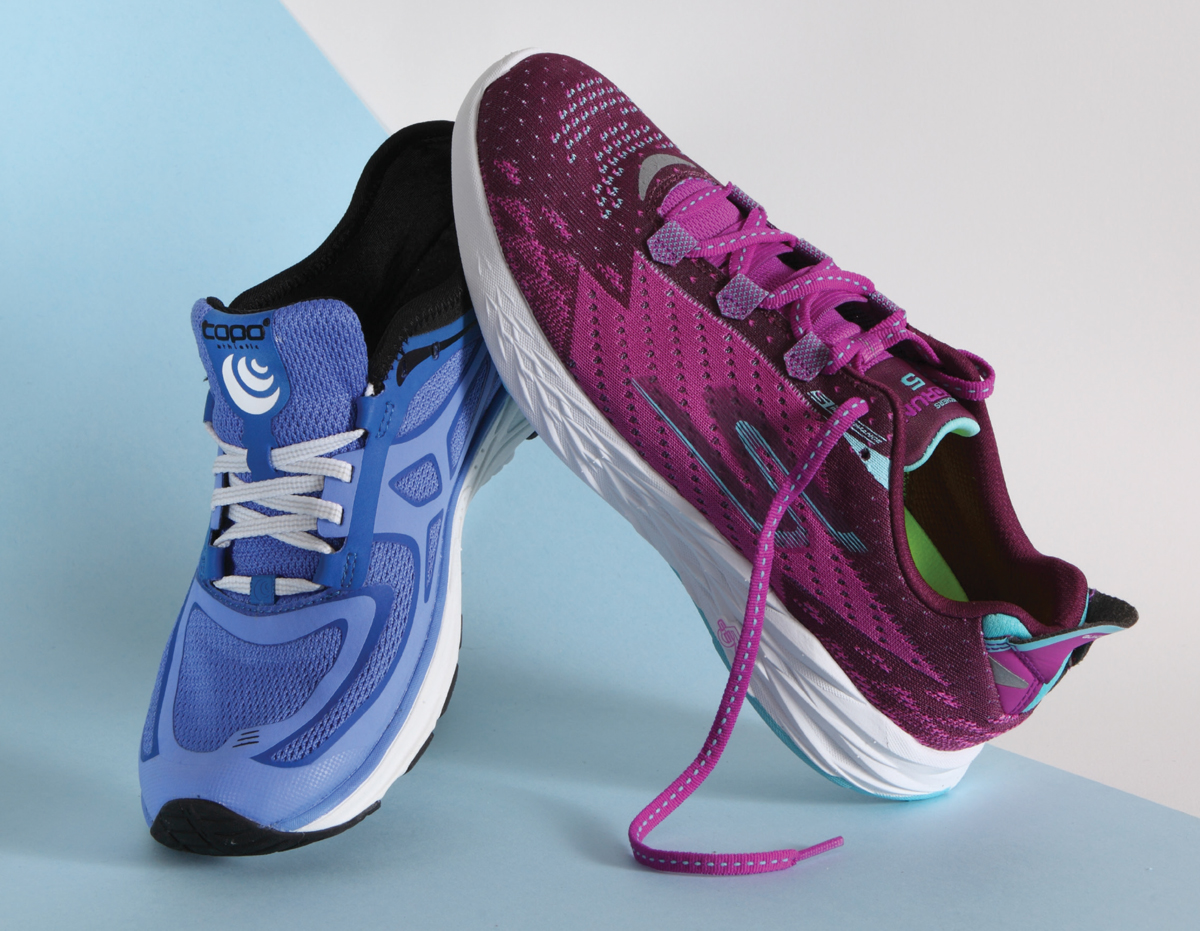 Not only do these athletes not want to be defined by one sport, they'd like their shoes to be able to transition as easily as they do. "The intention is to have one shoe to do everything," says Joe Nguyen, product expert in ASICS' performance running division, on their Road Hawk FF. Gretchen Weimer, global vice president of product for Hoka One One, calls their Hupana, "A cross-over shoe for any activity—running, in the gym, or having a beer with your friends."
Companies are using various names to distinguish this shoe category: Performance All Day (Hoka), Life on the Run (Saucony), 24/7 Performance (On), Versatility (Brooks). The core idea is to make clear that these aren't just running shoes—they are activity agnostic, something you can be comfortable in wherever you are, whatever you are doing.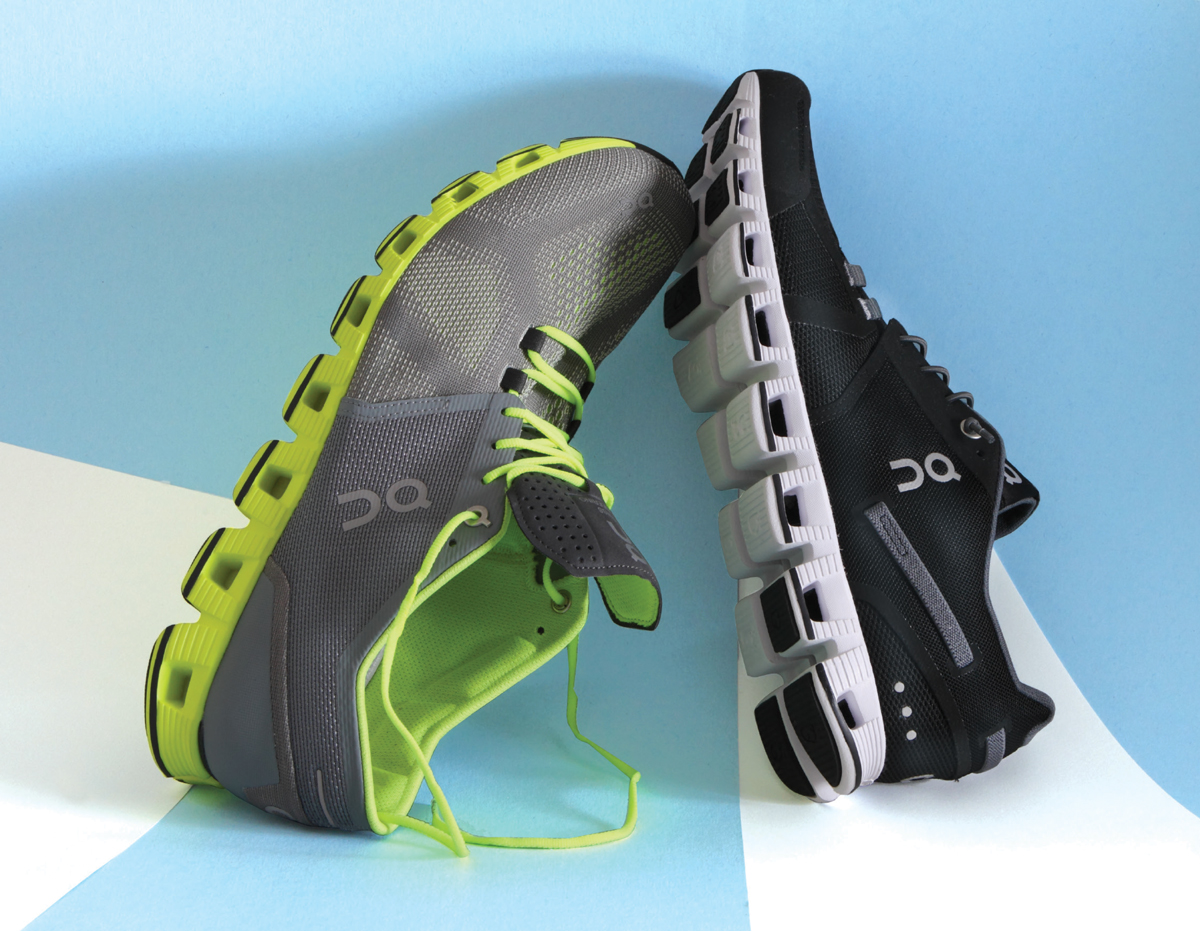 Fashion Forward
Fashion is what first sets these new models apart from other lines in traditional hard-core running brands. Unlike performance running shoes that tend to have flashy colors, aggressive overlays and are plastered with logoed tech callouts, these models have clean lines, muted colors and fashionable textures. Many have knitted uppers or use mesh with prints that make them look knitted and heathered.
Some brands have to work harder to make their shoes more mainstream. Weimer reports that young people often say, regarding Hoka, "I think I like the brand, but don't think I can wear those big-midsole shoes." Their Hupana model has a slightly thinner midsole than many of their models, but also uses a trompe-l'oeil design to de-emphasize the height by visually merging some of the sole with the upper.
Altra's "footshaped" toe box poses fashion challenges as well, making them look a bit clownish. To counteract this, they wrapped a narrow strip of the outsole up over the tip of toe, visually creating a more stylistic pointed appearance. Combined with the textured knit upper, they are "shoes you can wear with jeans and not look like a doofus," says co-founder Golden Harper.
Some brands simply have to simplify to appeal to the new audience. "Younger consumers think our shoes are a little bit bulky and have a lot of components," says ASICS' Nguyen. "Millennials are looking for simplicity."

Performance Matters
Every company, however, wants to make clear that these shoes aren't traditional "athleisure" models that only posture as athletic apparel. Young consumers may not want to look like a run is always imminent, but they still want the performance features that would make one possible, and comfortable, at any time. These models, at heart, are serious running shoes; they're like elite athletes who look good enough to appear in the swimsuit edition, not fashion models who appear vaguely athletic.
Caspar Coppetti, one of the founders of the Swiss company, On, says, "We don't believe in athleisure; We don't like products that pose as performance products, but are not functional."  Coppetti points out that while their Cloud model may be worn by many for its stylish boating-shoe looks, it is a high performance piece of equipment that has been worn by athletes winning Olympic medals and international marathons.
Weiner also wants to make clear that Hoka's fashionable new Hupana model is no less a performance shoe than any of their models. "This is not a lifestyle play," she says. "The experience is there if you actually run in the shoe." The Hupana still delivers Hoka's unique, rolling ride, and it's light, bouncy responsiveness makes it feel like a shoe you could race in.
ASICS' Road Hawk FF is similarly light and spry, built with a full-length midsole made from their premium Flight Foam. Altra's Escalante uses their newest, energy-return AltraEgo midsole and is favored by many of their sponsored elites: Jacob Puzey ran a 2:26:52 at the 2017 Boston Marathon in them.
Beyond running, all of these shoes share design elements that add to their activity versatility. They are light and neutral, with no motion-control components getting in the way. Their outsoles tend to have low-profile tread patterns, with full ground contact underfoot for stable, versatile landings.
Like others in the category, Topo's ST-2 is simple and straightforward, a light, fast and flexible shoe. It transitions well to the gym because it has a "responsive platform, protective enough for speed work yet flexible enough to stimulate the foot and lower leg muscles during gym workouts," says founder Tony Post.

New Customers
Most companies are betting on the new cross-over models bringing new customers to their brands.
"The Revel is intended to appeal to the younger, millennial runner who craves versatility," says Newton of Brooks. "It is not competing with our core running line. If it does compete and cannibalize other products, we would not have achieved our goal, and would be disappointed."
Others echo these sentiments. "Our intention is to attract new, younger consumer who may not have heard of the brand," says Nguyen.  "We think it is a different audience," says Weimer. "People who have seen the brand, and are curious about it, but, if they wear their athletic shoes all day long, can't imagine wearing the [maximal-height] Bondi, for example."
Some companies see the new models appealing to a broad spectrum. "We hoped to dual segment the Escalante," says Harper.  "A shoe we could sell to serious runners, but also a shoe we could sell to the Free and Flyknit crowd." To appeal to both of these audiences more clearly, On will make two versions of the Cloud next year, an original, more fashionable Cloud and a Cloud X with a more technical upper.
To attract these new customers, companies are counting on the price point, which hovers around $100, and the style. They realize that this consumer is probably not coming into specialty retail for a biomechanical fitting but will likely pick up the shoe for its aesthetics. And that's OK. These athletes tend to run less, so often don't need the specialized features.
"Companies are realizing they need to start servicing the $90-100 market," says Dan Levy, Vice President of Global Sales for Skechers Performance. Skechers Performance has been in this space since the beginning. Their GOrun 5 model sits squarely in the category as an award-winning running shoe with a clean, functional design that also looks good when not running.

Specialty, Plus
The majority of brands are sticking with the same distribution channels for their new models as they use for their core running lines: run specialty and sporting goods. While the price point is slightly lower than core running models, these shoes are still high-end products, not suited for "family channel" doors.
While they are looking for customers who may not have often darkened a run specialty door in the past, the brands are counting on the changing market to bring them in. "We want to attract that young consumer to the brand, but at the same time, run specialty knows they need to attract that young customer to their door as well," says Nguyen. "The product makes sense for the variety of the consumers that will be shopping at their doors."
A few companies are tweaking their distribution strategy. Hoka, for example, released the Hupana on their own site first, before shipping to specialty. "We wanted to test if we could get new eyes to brand," says Weimer. "When product hit, it kind of took off. Within a matter of two months, we started to get the retail interest that we hoped for." Altra has been seeing traction for the Escalante in foot comfort, walking and outdoor shops, interest that hasn't been there for previous road models.
Saucony's dual approach for their "Life on the Run" strategy straddles other's efforts in this category. On one side, they're giving some of their core, high-end, specialty-only models like the Ride and Freedom ISO new materials and color treatments to make them more appealing to this younger audience. On the other end, they've created shoes like the Kineta Relay and Liteform Feel, two models with simple, clean styling and plenty of running heritage, that, at a $70 price point, are distributed mostly in family footwear and sporting good doors.
Wherever customers find the shoes, and whatever attracts them first, companies are confident that they'll be pleasantly surprised at the comfort and versatile performance. "Everyday people buy the Cloud first for the looks, then they realize how comfortable it is—exactly because it is performance-based and light," says Coppetti. "They almost discover its true purpose because they were fooled by the looks."